Wise decisions
Sound advice.
Your needs.
Our expertise.
Helping families build their future.
Retirement Advisors, Inc. has been enhancing their clients wealth for over twenty years.
"I believe clients receive tremendous value working with an experienced, independent, financial advisor who is committed to helping them achieve their goals."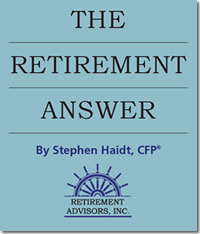 The Retirement Answer was written in order to help people avoid many of the common mistakes that I have seen over the years.
We will review your overall financial situation and look at the where you are now, where you want to go and the gaps, if any. The purpose of this meeting is to see if we are the ones to help you achieve your most pressing financial goals
Why select a "Fee-only" advisor?
Fee-only advisors work solely for their clients and are compensated only by a previously agreed upon fee. Therefore, they can be completely objective in their evaluation and can recommend a course of action based only on strategic financial considerations.